Teacher registrations are open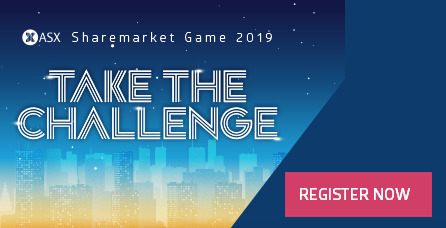 To register:
Sign up or login to MyASX
Once logged into MyASX, select the Schools Game
Complete the Schools Game registration form
Once registered as a teacher, you can then add your students.
Need help with registering and adding your students - see our Teachers getting started guide
Please note: Only teachers can register for the Game. If you are a student and you want to play the Game. Please ask a teacher to register for the Game and then sign you up.
The Game
While you teach your students about investing and the Sharemarket, they can put into practice what they are learning by playing the Sharemarket Game. Students receive a virtual $50,000 they can invest over a 10 week period, in 220 companies listed on the ASX. The prices students buy and sell at are the same prices as they would get in the live market so this is as close to real life share trading as you can get.
As a result of playing the Game your students will:
Develop their knowledge of the sharemarket
Learn how to research companies
Discover the importance of wise investment decisions
Gain a greater knowledge of economic and world events
Begin to learn more about investing which is beneficial for their future

The Game can be part of a school subject or an extra-curricular activity offered to students. It is free to play and as a bonus students can win great cash prizes
Game features
Students can:
Choose from 200+ stocks
Create their own watchlist
View company charts and the latest prices
Get the top 5 and bottom 5 stocks for the day
Play as a team or individually

Teachers can: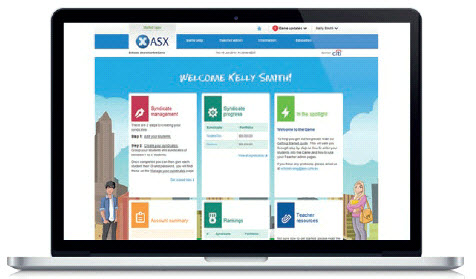 Bulk upload a student list
See when a student last logged in or if they are active
Send messages to students
Easily play alongside students
Access ready made lesson plans

How the Game works
As teacher, you need to register for the Game and then inside your account you sign your students up to play.
If you are a student, you need to ask a teacher to sign you up.
Students compete either individually or in a group of 2 to 4 students
Students do research and decide which companies they will invest in
They buy and sell shares in any of the nominated ASX listed companies
Orders to buy or sell shares can be placed at any time. Orders will be executed when the market is open.
Students can monitor shares via their Game portfolio
Teacher resources
There are teacher lesson plans and resources available once you register for the Game. If you would like to access the resources prior to registrations opening, please request via school.smg@asx.com.au
Game dates

Game 1, 2019
Registrations open
Game: 7 March - 15 May
Game 2, 2019
Registration opens: 18 July
Game: 15 August - 23 October
Game prizes

Syndicate major prize

1st - $600
2nd - $500
3rd - $400

Syndicate state prize

1st - $400