Bring the world into your classroom with the ASX Sharemarket Game
While you teach your students about the Sharemarket, they can put into practice what they are learning. Students receive a virtual $50,000 that they can invest over a 10 week period, in 200 companies listed on the ASX. The prices students buy and sell at are the same prices as they would get in the live market so this is as close to real life share trading as you can get.
 As a result of playing the Game your students will:
Develop their knowledge of the sharemarket
Learn how to research companies 
Discover the importance of wise investment decisions 
Gain a greater knowledge of economic and world events
Begin to learn more about investing which is beneficial for their future
The Game can be part of a school subject or an extra-curricular activity offered to students
It is free to play and as a bonus students can win great cash prizes       
What's new?
The Game has been redesigned and has a range of new features.
Cannot view via YouTube -
View here.
What's new for students?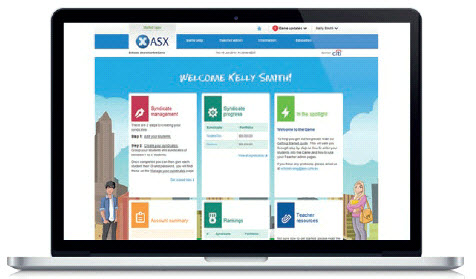 Now mobile and tablet friendly
More choice with 200 stocks
Watchlists and charting within the Game
New improved  portfolio page
A wider range of rankings
What's new for teachers?
You can now bulk upload a student list
Simple way of creating syndicates
You can see when a student last logged in or if they are active
You can send a message to your students
You can easily play alongside your students           
And more...
How the Game works
If you are a teacher, you need to register for the Game and then sign your students up to play the Game.
If you are a student, you need to ask a teacher to sign you up. 
Students compete either individually or in a group of 2 to 4 students  
Students do research and decide which companies they will invest in
They buy and sell shares 'online' in any of the nominated ASX listed companies
Orders to buy or sell shares can be placed at any time. Orders will be executed when ASX TradeMatch® is open (10 am to 4.10 pm)
Orders will be processed as they match with what is in the live market via TradeMatch
Students can monitor their shares via their Game portfolio
Game dates
Game 1, 2015
Registration: Closed
Game play: 12 Mar - 20 May
Game 2, 2015
Registration: 23 Jul - 19 Aug
Game play: 20 Aug - 28 Oct
Sign up for an email reminder for Game 2, 2015
Game prizes
There are state and national prizes for both students and their schools.
School prizes

National:
1st - $2,500
2nd - $2,000
3rd - $1,500

State:
1st - $1,000
Syndicate prizes

National:
1st - $1,000
2nd - $750
3rd - $600

State:
1st - $500