Learn how the Game works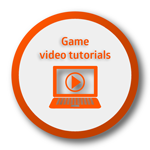 Watch the Game video tutorials to help you learn more about the Game. (These may take a few minutes to download)
You can also use the "How to" guides (see right hand side column) to help you learn more about how the Game works.
Getting started
Logging in - Once your teacher has registered you and given you a login ID and password – you can login in via this link. If you have problems go to this login help' guide.
Take a look at the companies in the Game - You can choose from over 300 companies listed on the ASX. If you find there are too many to choose from, don't let this worry you as you are likely to know some of these, for example: JB Hi-Fi, The Reject Shop, Woolworths or Domino's Pizza.
You can only view the company list once you have logged in. It may be helpful to print out the list of all the companies and circle the ones that you know. Have a chat with your family about any companies on the list that they know or perhaps own shares in. For additional help read The Company list.
Quickstart lesson 2 will also help you with doing your research.
It is helpful to understand the different market sectors (or industries). A sector is a group of companies that have the same business operations. As the economy moves through different cycles, certain sectors will profit more than others. You can view companies by sector, by using the sector drop down tool on the Company list page.
Understanding dividends - A dividend may be something that you want to consider when you are choosing a company to invest in. To find out more about dividends you can watch this tutorial. What is a dividend?
Having a plan
It's important to have a trading plan – to help you get started you can read the How to guide on developing a trading plan.

Quickstart lesson 3 also has some questions you can answer that will help you create a plan.