Announcing Game winners
Congratulations to all Game players.
This was not an easy market to trade in due to a lot of volatility and uncertainty in the market, so if you made it to the end of the Game, well done!
For this Game:
The All Ordinaries (XAO) was down -7.58%
The best performing sector was telecommunications up 1.45%. This was the only sector in the positive.
The worst performing sector was health care down -12.93% closely followed by financials down -11.19%.
The top stock was VOC - Vocus Communication up 46.78% followed by TPM - TPG Telecom up 35.9%.
The worst performing stock was TRS - The Reject Shop down -57.07% followed by SDA - Speedcast Limited down -40.03%.
Only 6% of syndicates finished in profit with the average portfolio value being $47,436.

The top syndicates used a variety of strategies, read on to discover what they did.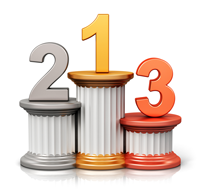 NATIONAL 1ST & NSW 1st
Zack in Year 11 at St Luke's Grammar School
Portfolio Value: $57,867
Zack bought and sold 9 times, finishing the Game all in cash. The stocks he purchased included A2M - A2 Milk, APT - Afterpay Touch, AGL - AGL Energy, ECX - Eclipx Group, BAL - Bellamy's, SDA - Speedcast International, HSN - Hansen Technologies and NXT - NEXTDC.
Strategy: "Throughout the Game, the idea of in-depth research into multiple shares listed on the ASX was key. This involved reading and analysing end of financial year reports as the Game began during reporting season. I then used that information to make educated assumptions on the road certain shares would take.
In class we also viewed the CommSec's daily report, which provided information such as the current value of commodities within the market, that lead to the eventual investments that I made.
A large sector of my strategy was selling and holding when ASX went into negative territory in the back half of the Game. This allowed me to keep the profit that I had made within the first 5 weeks, and monitor my competition from the top of the leader board, and if I needed, to make investments if overtaken, I could do so with my cash assets."
NSW 2ND: New Horizons Inc - Stephen & You Wei in Year 7 at Fort Street High School
NSW 3RD: Walter Zhuang - Walter in Year 10 at North Sydney Boys High School
NATIONAL 2ND & VIC 1st
Elite Book - Charlotte, Olivia, Ruby and Sam in Year 10 at Geelong Grammar School
Portfolio Value: $56,827
This syndicate purchased NST – Northern Star, WTC - Wisetech Global, AWC - Alumina and SOL – Washington H Soul Pattison and Co. They sold WTC to lock in some profits early in the Game and then repurchased WTC. They then held for the rest of the Game.
Strategy: "Before the competition commenced, as a group we researched the strategies that previous year winners had used. We determined that the best strategy was to only buy into four companies and then stick with them for the duration of the Game. The four companies we invested in were chosen quite specifically, focusing on mining, energy and biotechnology...We chose two Mining based companies that ranged from aluminium (AWC) to the production and exploration of gold (LTD), one software company and one diversified company that were involved from energy to gold (WTC). We stayed with these companies for the entirety of the Game and were very happy to see how it turned out."
NATIONAL 3RD & VIC 2ND
XIANG Elly CEL - Elly in Year 10 at Caulfield Grammar School
Portfolio Value: $56,580
Elly bought 12 times and sold 10 times. Selling to lock in some profits but often selling to get out of stocks that were not performing. The stocks she purchased over the Game period were ALU, MIN, PTM, WHC, CPU, ABC, FMG, OGC, SAR, BSL, SVN and WHC. The biggest performing stock for Elly was SAR – Saracen Mineral Holdings.
Strategy: "Throughout the Game, I chose to use a buy and then hold strategy, however, when a stock was not performing very well, I chose to sell it before it ate in to the profit that other stocks had earned...or when it had risen back a little. One of the key strategies that I used was only holding 4 maximum shares at a time as this is what I believed would earn the maximum profit…in the end it paid off. When choosing the shares to hold, I always looked at the historical low and high points, making sure that I would not invest in the stock at its historical high point as it may be extremely likely that its stock price would fall soon after."
VIC 3RD: Logan in Year 10 at Oberon High School
WESTERN AUSTRALIA 1ST
Falaherties - Saul & Jayden in Year 9 at Albany Senior High School
Portfolio Value: $55,752
Saul and Jayden bought and held. The companies they purchased included ORG - Origin Energy, MYO - MYOB, NST - Northern Star and WOW - Woolworths.
Strategy: "We did a lot background fundamental and technical analysis using two websites called TradingView and marketindex.com.au, we also watched the news daily. To maximize our profits over the short time span, we invested in speculative sectors such as Mining and Biotechnology. In particular, we would watch to see how Wall Street closed because the ASX usually followed that trend later. The market was very bearish, so we took extra precaution and held our shares throughout the pressure - it's not every day that a company gets a $2 billion buyout offer and rises 20%. In the end, it was a mixture of luck and dedication that got us through the Game - winning us 1st in Western Australia and 4th in Australia."
WA 2ND: Marshal in Year 9 at Aquinas College
WA 3RD: LPB1 - Sam & Owen in Year 9 at Hale School
QUEENSLAND 1ST
Campbell - Morgan in Year 10 at Brisbane Boys College
Portfolio Value: $54,640
The stocks Morgan purchased were RIO, NWL - Netwealth Group , WTC - Wisetech Global, ALU - Alumina, GXL - Greencross Limited,and JBH - JB Hi-Fi. Early in the Game he sold out of WTC and ALU to lock in profits. He held for the rest of the Game.
Strategy: "Using the historical share market price charts for the companies on the ASX 200, I identified ten companies that had recently declined compared to their highest point over the last two years. This was done by comparing the magnitude of the price fall relative to their highest point and then reviewing the share price chart for the respective companies. To make up my portfolio of shares, I identified the companies that had fallen between 15%-25%. I then chose two companies with high, double-digit share prices and two companies with single digit share prices. I then purchased about $10,000 worth of each of these companies and kept $10,000 in reserve, just in case their prices collapsed. I held these shares in my portfolio through to the end of the trading period and managed to minimise the impact of the recent share market correction on the total value of my portfolio."
QLD 2ND: Finn in Year 11 at Padua College
QLD 3RD: Wright - Matthew in Year 10 at Mercy College

AUSTRALIA CAPITAL TERRITORY 1ST
Matthew-1 - Matthew in Year 10 at Radford College
Portfolio Value: $54,079
Strategy: "When the Game first began, I realised that the best value for money, and the best chance to make the most money was to go big on a few shares. I bought about $10,000 on 5 different shares, TPM, VOC and others. I got extremely lucky, and the shares rose very quickly. I didn't want to lose my profits, so I sold the shares. In the first 3 days I was $3000 in profit. I didn't buy any new shares, and my portfolio stayed the same. After about a week, I bought into SDA, with another stroke of luck, the company rose again, I was at about $54,000. At this point, I realised that I didn't need to make as much money as I could, I only needed to have more than everyone else in the state. I stayed out of the market, because it was consistently going down, and I knew I would be fighting an uphill battle to make any more money. The logic was that everyone else would be struggling to make more money, they are the ones taking the risks, not me. This strategy lasted me until the end of the Game. On the last day, the player in 2nd was only $20 below me, I didn't buy anything, and he lost $800.
Summary: I made all my money at the start of the Game, and then held until the end of the Game, letting others take the risks to catch up."
ACT 2ND: Joshua in Year 11 at Radford College
ACT 3RD: Guinness in Year 11 at Radford College
TASMANIA 1ST
12Tail - Isaac in Year 12 at The Hutchins School
Portfolio Value: $53,679
Isaac bought and held for the Game period. The stocks he purchased were AWC - Alumina, NCM - Newcrest Mining, EVN - Evolution Mining and MIN - Mineral Resources.
Strategy: "I am currently studying Economics and played the Sharemarket Game as part of this subject. There seems to be a lot of uncertainty and instability in the world economy at the moment and so I wanted to stay away from volatile shares that are subject to global shocks which may make investors nervous. Therefore in researching my shares, I decided to buy shares that currently were performing strongly and that had showed a positive trend over the last year without too much fluctuation. For this reason, I bought into established resource companies that had strong market capitalization and that had been performing well in the short to medium term. I wanted to minimise the impact that the volatility of the market would have on my portfolio, so when my shares dropped in value my strategy was just to hold them with the expectation that they would recover. I followed this strategy over the 10 weeks and did not trade at all, which also saved on additional brokerage costs."
TAS 2ND: Scott in Year 10 at Southern Christian College
TAS 3RD: 10Jimmy - James in Year 10 at The Hutchins School
SOUTH AUSTRALIA 1ST
Unity Enterprises 12 - Will in Year 11 at Unity College
Portfolio Value: $53,291
Will bought and held for the period of the Game. The stocks he purchased included EVN - Evolution Mining, SRX - Sirtex Medical, ASX and NCM - Newcrest Mining.
Strategy: "My strategy for the Schools Sharemarket Game was to buy shares in companies that were currently undervalued and expected to rise, according to a study of their graphs. I considered volatile companies which tended to be in the mining industry. I invested maximum funds in these. Hence I chose, Evolution Mining and Newcrest Mining Limited which were very successful, and both had a massive jump in their price. I also placed an order on several companies I identified so if they dropped more in price I would automatically purchase them. I also kept cash in reserve to take advantage of opportunities."
SA 2ND: Maxwell in Year 9 at Thomas More College
SA 3RD: Thomas Nguyen - Thomas in Year 10 at Saint Ignatius' College
NORTHERN TERRITORY 1ST
Keke - Kian in Year 11 at Casuarina Senior College
Portfolio Value: $52,397
Kian also bought and held for the Game period. Buying DMP - Domino's Pizza, NWL - Netwealth, TPM - TPG Telecom, BRG - Breville Group, QBE - QBE Insurance, PGH - Pact Holdings and AHY - Asaleo Care.
Strategy: "This is the first time I have played the Game, before this I had very little understanding of what shares were. We had a few lessons in class and I followed the strategy to "not put all your eggs in one basket." With this in mind I bought shares from companies in different industry groups. I bought shares in seven different companies...I was not familiar with any of the companies with the exception of Domino's Pizza. Throughout the game I monitored the progress of my portfolio but chose not to sell/buy other shares since overall the shares were going well and also the sharemarket prices were quite volatile. I decided to play safe and stay with what I had."
NT 2ND: Yarni - Ioannis in Year 10 at Casuarina Senior College
NT 3RD: JMS - Jayden in Year 10 at Casuarina Senior College
Special mention to our New Zealand and International top syndicates:
New Zealand 1ST: Navy Seal from Aquinas College Tauranga
International 1ST: A-Phat-One from Australian International School
The company list has been updated for the entire Game period.

We'd love your feedback - complete our end of Game survey here.
Well done to everyone who played the Game, we hope you had fun and learnt a lot.
See you in 2019!
The Games Team